Best Dating Sites
| | | | |
| --- | --- | --- | --- |
| 1 | | | |
| 2 | | | |
| 3 | | | |
| 4 | | | |
| 5 | | | |
Best Alternative Dating Site in 2020
Today society finally accepted the thought that being skinny is not so healthy. All people are beautiful, and the size doesn't matter. Some nationalities even have humoristic sayings about people that a good person has to be big. And the dating site BBPeoplemeet helps beautiful and big people to meet and to date. This BBPeoplemeet review will cover the pros and cons of the server and other peculiarities which you should know and consider before using it.
About BBPeopleMeet
This website belongs to a huge and popular media company IAC. They provide users with personalized dating services that can help them to find exactly what they want. The group has many different projects; most of them were launched since 2002. This group has a huge impact on the dating industry and it provides singles all over the world with only quality products that can satisfy their needs.
One of such products is BBPeoplemeet dating site. The "BB" in the name refers to "big and beautiful" which means that the site connects all those singles who are not just skin and bones. The media group believes that all people are beautiful, but the dating industry was more focused on only slim people, and there were no online dating sites that would cater to the interests of people with curves. That is why the media group have decided to launch this project.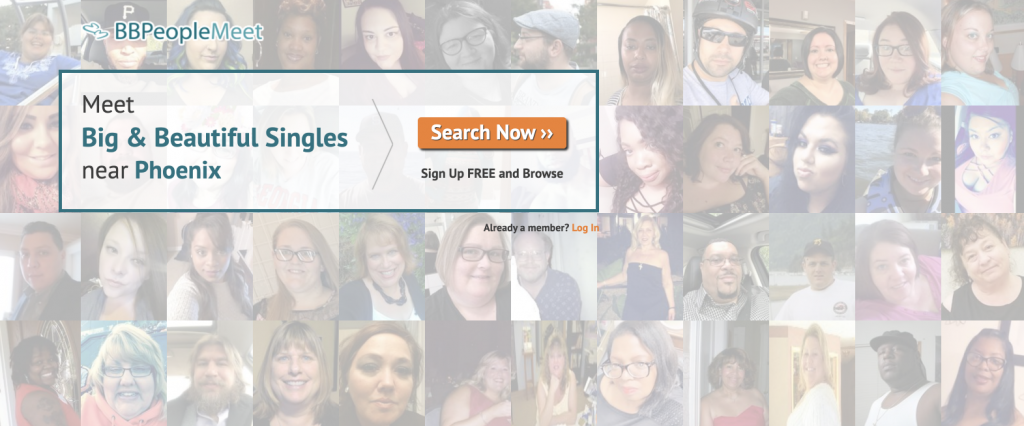 Pros and Cons
Pros
In this BBPeoplemeet dating website review, you can read about several disadvantages of using this website. After reading this review of BBPeoplemeet, you will gain a clear picture of the pros and cons. But let's start with advantages:
Focuses on BBW
The online dating site is personalized for men and women who have curves. It's not generalized, and it is completely focused on people with healthy body types.
Various Communication Features
It has different features and options that make the platform special. It is standing out from all similar projects because of such interactive games or options like "Who do you like" – when you need to compare two profiles at once, "I'm interested" – you just click interested or not when you see someone's picture, and My community where you can find out news about users of the platform, such as who added something to the account.
Advanced Matching System
Match system allows you to find girlfriends or boyfriends on your own by using the searching tool. But at the same time, you receive daily mail with a recommendation list. This mail is sent via in-built mail system, but if you don't log in for one day, you can find the list that had been sent on the previous day in your e-mail box that you have inserted while signing up.
Safe Dating Environment
It's safe and 100% legit. You don't have to worry that someone will easily hack your account and steal the data. And since it's a paid top dating site,
Some Free Features
It has several free features. Even though it's a paid service, you still can use the search tool, fill the profile, look at the profile pictures of ladies and gentlemen registered on the platform, etc.
Cons
And now let's proceed with the disadvantages. Even though the project is decent and has fun and interactive features, there are disadvantages:
Paid Service
BBPeoplemeet dating website review shows that if you are a free user and someone sends you a message, you won't be able to answer it. It's a disadvantage for both types of users – who pay and who are still deciding whether they should pay. If a user decides that he doesn't like what he sees and the functions don't seem to be appealing, then the person who has contacted you might get discouraged since he was ignored.
Long Verification Process
You have to wait until the administration approves your photos. This is a security trick that enabled the owners of the site to distinguish between the real and fake users. But until the approval, you will be invisible to other users.
Many Spam Activity
Other BBPeoplemeet reviews and comments which you can find on the Internet, indicate that some users can be too annoying, they don't know what personal boundaries mean. But at the same time, users are able to find friendship and romantic relationships. Either you are looking for love, or you are more interested in friendship, finding the right person can take a while. But it's possible.
How to Signup
This "registration" block of this BBPeoplemeet online dating site review is included not without reason. You have probably got used to a simple "insert name, email, password" process, but if you want to use this site, you will have to add additional information. To make sure that the user is real, the developers added the need to indicate your country and zip code. This is the first security measure that you encounter.
But other than that, everything else is similar to other projects. Insert your e-mail (and don't forget to check your mail-box afterward), think about a password, repeat the password, then add your age (by choosing the day, month and year of birth), sex, and who are you looking for (for a man or for a woman). It's simple and won't take too much of your time.
Then you can proceed with filling your profile. You can add something about you, like details from your life, what kind of personality you have, what would you tolerate, and what is a 100% no at all the times, etc. But as it was mentioned, your profile has to wait to be approved. It's good since that way you can be sure that other users also have to be approved and this fact eliminates the probability of scammers to deceive people, but at the same time, this process can take a while.
Features
Here are some of the features of the site:
free registration
matching algorithm
advanced chat options
extended search
Reviews on BBPeoplemeet show that features section is the strongest side of this project. The first and the basic feature of any dating platform is the search or the matchmaking system. If it is ineffective or gives unexpected results, then the site is not the best, and you should look for an alternative.
Luckily, this project is different. The algorithm which connects people with similar personalities is quite good and decent. The percentage of unexpected results is low, you receive daily lists of profiles, and if you like someone, you can contact this individual any time.
Other features enable users to focus on personalities and on the looks to find partners who they match with. Looks are important no matter what people say. First, we see the person, decide that he or she is quite nice, and then we speak. And only after these steps we get to know each other better and realize that even if this person wouldn't be appealing, you'd still be staying in touch because of the personality traits you value.
Such features that enable you to decide due to the looks are "Who do you like", and "Am I interested". The first option allows you to choose between two profiles. You can look at pictures and some biographical data, and then you decide who do you like more. After that, you can contact this person. The second option is similar, but you see only one profile, and you can choose an "interested" or "not interested" option.
Cost
About the cost per month, you can buy a monthly subscription (14.99) or you can save some money by paying for six months which will cost you around 36 dollars. This subscription is a must if you want to speak with people, and not just to look at their pictures.
Conclusion
BBPeoplemeet review shows that the project is decent and worthy of your attention. It has disadvantages, and you will have to spend time if you are interested in finding someone. But overall, the website can be evaluated 8 out of 10, which is pretty decent.